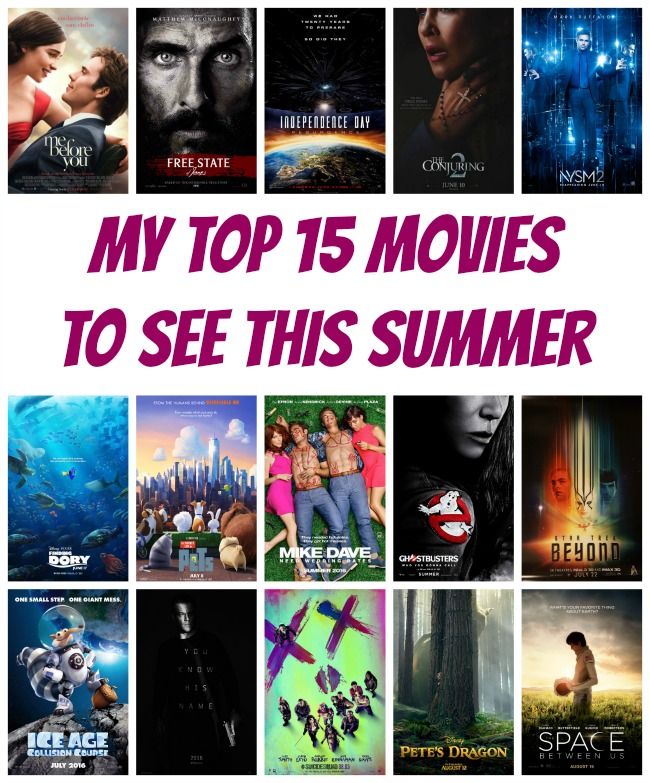 There are sooo many movies coming out this summer that I want to see! I have narrowed the insane amount of movies down to 15 for you. Let's talk about the summer of sequels, because eight of them are just that! There's no superhero movies this summer, but there is a Super Villain movie that I'm super excited about. There also a couple animated movies, a romantic drama that I know I'm going to cry my face over, a civil war movie, and a 'bro-comedy' that my boyfriend is dying to see! With the help of

IMDB

's plot summaries, here are my Top 15 Movies to see this summer.


JUNE 2016

Me Before You

| June 3rd

Based on the novel by Jojo Moyes - a girl in a small town forms an unlikely bond with a recently paralyzed man she's taking care of.




The Conjuring 2

| June 10th

Lorraine and Ed Warren travel to north London to help a single mother raising four children alone in a house plagued by malicious spirits.

Now You See Me 2

| June 10th

The Four Horsemen resurface and are forcibly recruited by a tech genius to pull off their most impossible heist yet.




Finding Dory

| June 17th

The friendly-but-forgetful blue tang fish reunites with her loved ones, and everyone learns a few things about the real meaning of family along the way.

Free State of Jones

| June 24th

As civil war divides the nation, a poor farmer from Mississippi leads a group of rebels against the Confederate army.

Independence Day: Resurgence

| June 24th

Two decades after the first Independence Day invasion, Earth is faced with a new extra-Solar threat. but will mankind's new space defenses be enough?



JULY 2016

The Secret Life of Pets

| July 8th

Taking place in a Manhattan apartment building, Max's life as a favorite pet is turned upside down, when his owner brings home a sloppy mongrel named Duke. They have t put their quarrels behind when they find out that an adorable white bunny named Snowball is building an army of abandoned pets determined to take revenge on all happy-owned pets and their owners.

Mike and Dave Need Wedding Dates

| July 8th

Two brothers place an online ad to find dates for a wedding and the ad goes viral.

Ghostbusters

| July 15th

30 years after Ghostbusters took the world by storm, the beloved franchise makes its long-awaited return. Director Paul Feig brings his fresh take to the supernatural comedy, joined by smoe of the funniest [female] actors working today.

Star Trek Beyond

| July 22nd

The USS Enterprise crew explores the furthest reaches of uncharted space, where they encounter a mysterious new enemy who puts them and everything the Federation stands for to the test.

Ice Age: Collision Course

| July 22nd

Scrat's epic pursuit of his elusive acorn catapults him outside of Earth, where he accidentally sets off a series of cosmic events that transform and threaten the planet. To save themselves from peril, Manny, Sid, Diego, and the rest of the herd leave their home and embark on a quest full of thrills and spills, highs and lows, laughter and adventure while traveling to exotic new lands and encountering a host of colorful new characters.

Jason Bourne | July 29th

Jason Bourne, now remembering who he truly is, tries to uncover hidden truths about his past.


AUGUST 2016

Suicide Squad

| August 5th

A secret government agency recruits imprisoned supervillains to execute dangerous black ops missions in exchange for clemency.

Pete's Dragon

| August 12th

The adventures of an orphaned boy named Pete and his best friend Elliot, who just so happens to be a dragon.

The Space Between Us

| August 19th

A young man raised by scientists on Mars returns to Earth to find his father.

What movies do you want to see this summer?