We all know how much I like to plan. And over plan. And then plan some more! The kind of planning I'm talking about today is actually reasonable and it doesn't set me up for any sort of let down.

Meal planning is HUGE for me and I do it before every major trip to the grocery store. If I didn't plan my week out in food, then I would end up eating carrots and icing for dinner. Okay, not actually icing, but the point is there would be no rhyme or reason to anything in my cabinets. The main reason I meal plan is so that I am prepared at the grocery store. Sometimes it takes me no time at all. Sometimes, like this last Sunday, it takes me two hours.

I like to keep a notebook that I use specifically for my meal planning. On the first page I keep a list of 'go-to' foods that I tend to eat on a regular basis. This way if I'm feeling stumped, I am able to refer to that page for meal and snack ideas.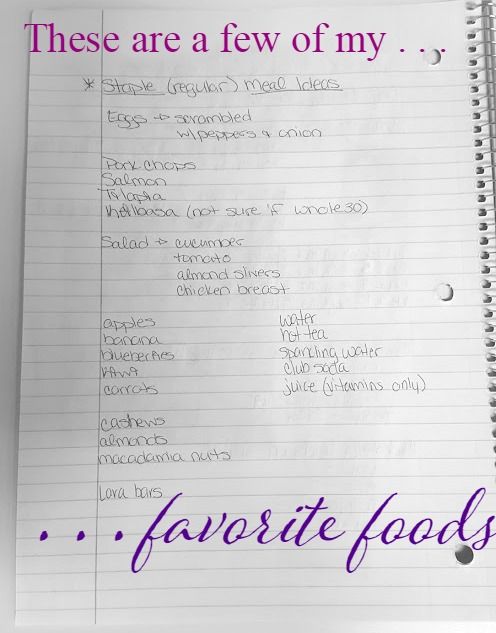 I keep one page per day. It gives me plenty of space to plan out my meals as well as write down what I did at the gym that day. I also like to make reminder notes of what is going on that day. For instance, there are two Tuesdays a month that I have Junior League meetings. On those night I like to have a quick and easy dinner available to me. This week I made a salad and took it with me to the meeting (note the
could switch up
note below on Tuesday :))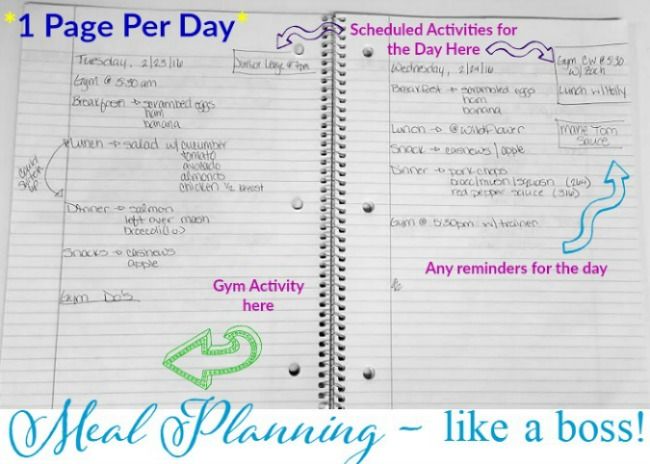 Like I mentioned earlier, my main reason for meal planning is to make my grocery list. I don't always follow the meal plan made. Sometimes it is really hard to get up earlier enough to make breakfast or by the time I get home all I want to do is make scrambled eggs and heat up left over salmon (like last night). When I have days that like I just take a colored pen and cross out what was planned and write in what I actually had. It helps with future planning situations.
There are tons of different idea out there that come with printables for meal planning. All you have to do is go on
Pinterest
. I have used printables before (they are really pretty), but I am much better off with a blank sheet.
That's how I meal plan. How do you do it?