Oh, Mindy Kaling, how I love thee. Let me count the ways. In a total girl crush way that is. I am Mindy. Mindy is me. Well, she's four years older than me. A famous writer, actress, comedian. But in the essence of a woman, I can relate to her so much! Especially when it comes to dating and body image.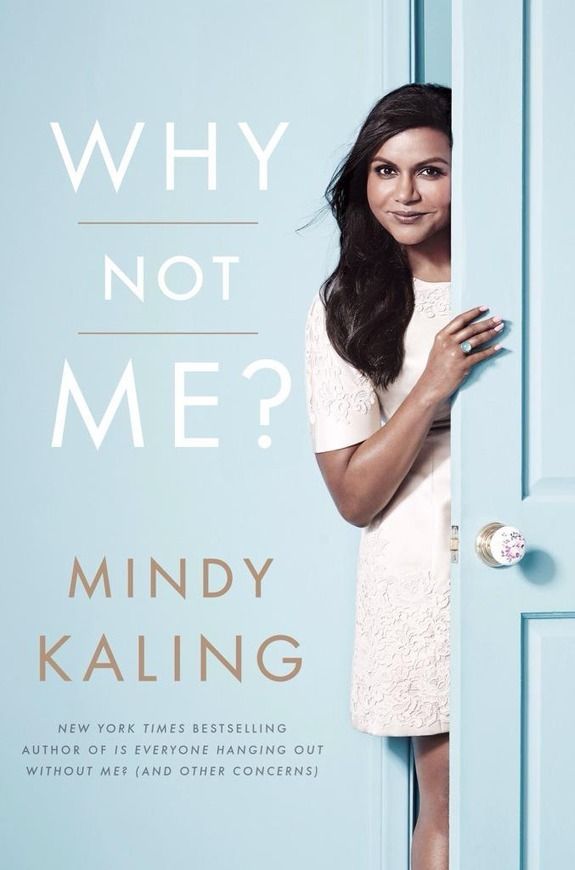 Here's the synopsis from
Goodreads
-
In
Why Not Me?
, Kaling shares her ongoing journey to find contentment and excitement in her adult life, whether it's falling in love at work, seeking new friendships in lonely places, attempting to be the first person in history to lose weight without any behavior modification whatsoever, or most important, believing that you have a place in Hollywood when you're constantly reminded that no one looks like you.
I read Mindy's first book,
Is Everyone Hanging Out Without Me?
a few years ago for my book club and I absolutely loved it. I had no doubt that I would love
Why Not Me?
Mindy has a way of relating to her readers. She tells it how it is and how she really feels.
Why Not Me?
is broken up into sections. They don't necessarily connect, but Mindy is good and senselessly moving from chapter to chapter. She talks about her short-lived time in a sorority - Sigma Delta at Dartmouth (had she been in Gamma Phi Beta at George Mason I knew we would have been big/little!). She also gives us her take on weddings - she doesn't like them. I absolutely love and appreciate her chapter 'A Day in the Life of Mindy Kaling' where she has her assistant take pictures of her throughout her day. Literally from her 5am wake up time all the way through to her 12am bed time. You really see how hard she works.
The part of the book that I loved and appreciated most what
Love, Dating, and Boys Who Ru[i]n the World
. There is a chapter in this particular section that she talks about her dating experience with a particular man. From the beginning of their meet all the way to their end (I'm not spoiling anything, I promise) I could relate 100%! Another chapter, in that same section, called 'A Perfectly Reasonable Request' is another relatable aspect of her book.
What I'm asking for is not that much. I just want a boyfriend who is sweet and trustworthy. That's it.
He doesn't need to have a perfect body or look like George Clooney. I want a guy who wants to curl up on a Friday night and watch Netflix. He can even pick the show. I mean, ideally, it's serialized and female-driven, and maybe not that boring political one. But honestly, I don't care. It's not important.
All I want is someone reasonable who is basically a good guy. Someone patient, who doesn't mind if I'm taking an extra few minutes getting ready before we leave the house. But who is impatient with the same things that I am, like when we are waiting too long to be seated for dinner and he should maybe to talk to the hostess. Because otherwise, why did we make a reservation at all?
When it comes to body image Mindy is totally frank about how she feels about the media and their opinions about her body. In the chapter 'Unlikely Leading Lady' Mindy talks very openly her own body struggles and when Hollywood and the Skinny.
I could talk and talk and talk some more about what I loved about her book. Basically - go buy it! Or get it at the library. Wherever it is that you get your books, go now and get
Why Not Me?
so you can read it. I loved it!