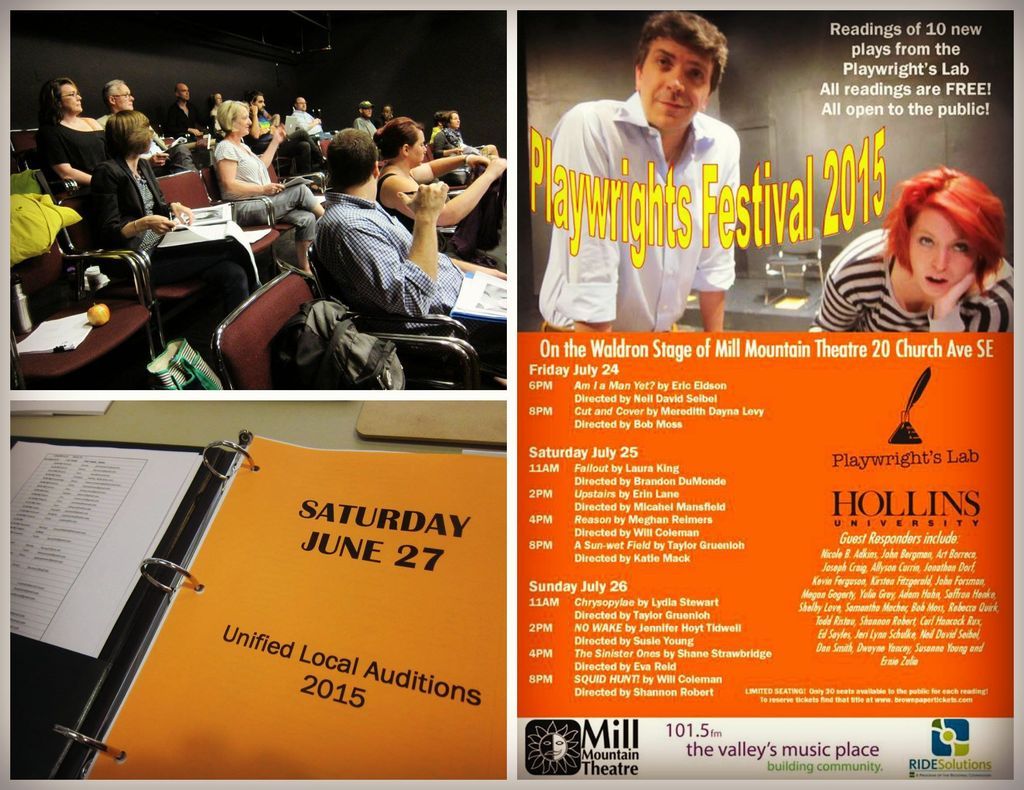 At the end of June I auditioned for the 2015 Unified Local Auditions. These auditions are primarily for the Playwrights Festival, but you are kept on file for any future shows/readings. The Playwrights Festival is part of the graduate program for play writing at Hollins University. All of the plays are 'works in progress' by graduate students.
I hadn't auditioned for anything in about 7 years. The last time I performed in front of an audience was 4 years ago and that was an acting class I took in Washington, D.C. I was nervous! I used my old go-to monologue and it did not fail me! After I performed my monologue I was asked to sing (eek!). I got through that..haha...and then was asked to read from a few of the festival readings. I left there feeling so excited about the possibility of acting again. Just auditioning made me realized how much I had actually missed it!
I got the call a few days later that I had been cast in two festival readings! TWO! I was sooo excited. I would have been totally happy with just one, but TWO! Oh Mi Gosh! I was going to be an actress again!!! The way a festival reading works is that the actors read from the script. The plays aren't full productions with set, costume, lights, etc. There are very few, if any, props used and the actors carry the script in hand and read from it (no memorization).
The two plays I was cast in,
Coupler
and
Fallout
, could not be more different from each other.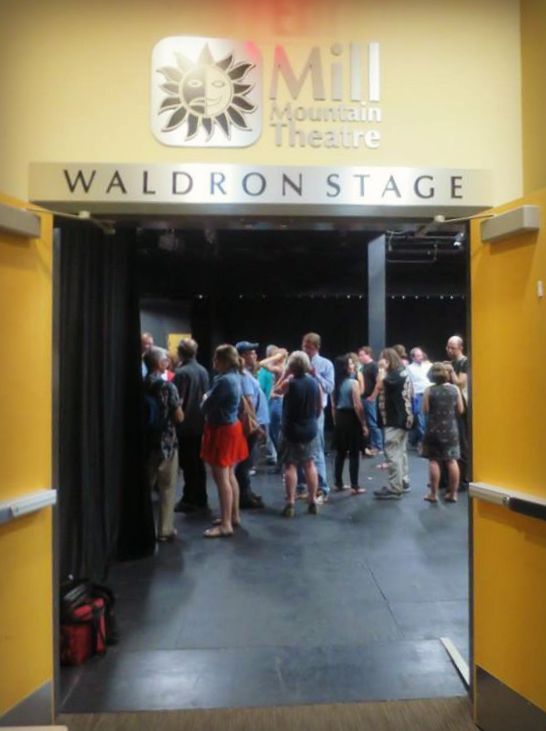 Coupler
written by Meredith Dayna Levy
Coupler
is about six people traveling on a train in London. Just your every day commute. The six characters are all connected in some way and have all lost something in their lives. There is a very whimsical feeling to it.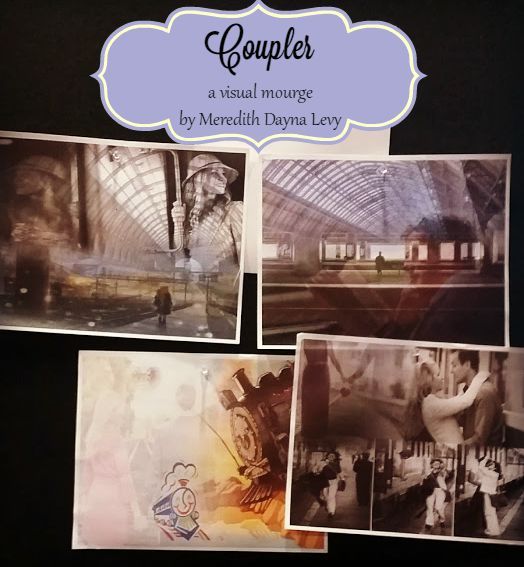 Robert (Bob) Moss directed us in
Coupler.
Bob had us all sitting in a row up stage and had two sets of music stands. When our characters were speaking we would be at the stands. It worked really well and we got a lot of great response from the audience. That's the thing about theater, you have that live interaction from the audience. It's such an amazing feeling!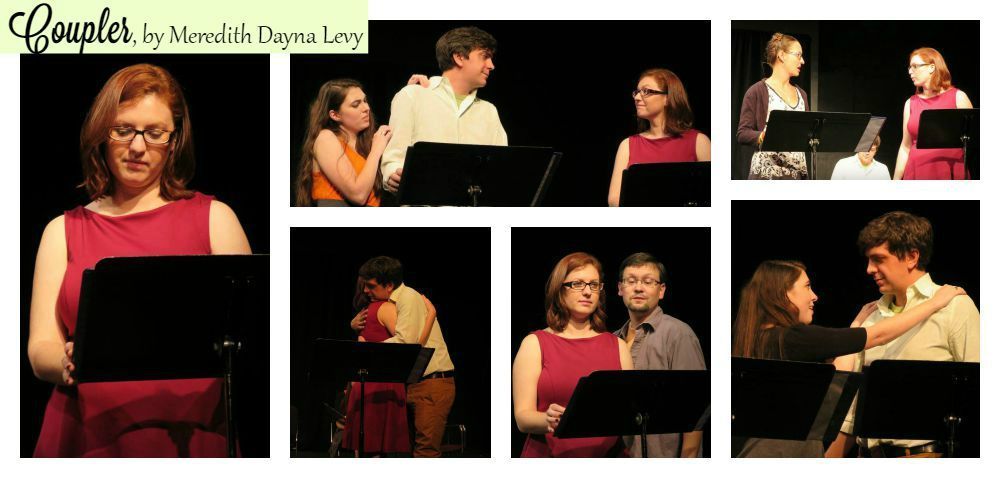 "Coupler," by the perceptive and talented Meredith Dayna Levy (she wrote the wildly popular "Decision Height" two years ago), was a marvelous comedic diversion, featuring Bob Moss's direction and a sparkling cast of locals.
This one dealt with the interconnected lives of a group of train travelers (and of the train, as a character), sprinkled with laughter and Shakespeare.

It is not a finished play, but a work in progress, a script-in-hand presentation without costumes or sets. Like so many of these works, this was pure and delightful theater in the raw, a story that didn't need props to be effective.
The cast—Will Coleman, Erica Musyt, Emma Sala, Owen Merritt, Bonny Branch, Linsee Lewis and Debora Schwartz (wonderfully diversionary as the train)--is delightful and at times electric.

talk back with the audience after the Coupler reading
During the talk back for Coupler a gentleman made the comment that Meredith's script could be a movie. I was like, HECK YEAH! It's a total romantic comedy that would work wonderfully on the screen, but it's also got this quality that only the stage can do justice with. However, I'm all for co-starring in a movie...haha!
Fallout
directed by Brandon DuMonde
Fallout
is about two people locked in a fallout shelter. They are complete strangers that are forced together at a time where they didn't even know that they needed each other.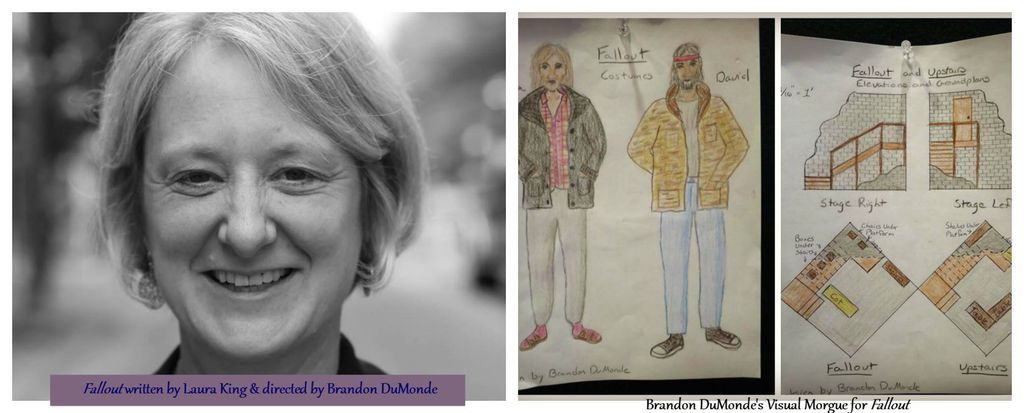 Fallout iss action driven and dramatic. I have never been in a production where there were only two people, so it was interesting to be onstage the entire time. There were some very physical aspects to Fallout; a few struggles, a full on fight scene, and holding a notebook while dealing with props was not easy! Laura is a fantastic writer and I loved working with her.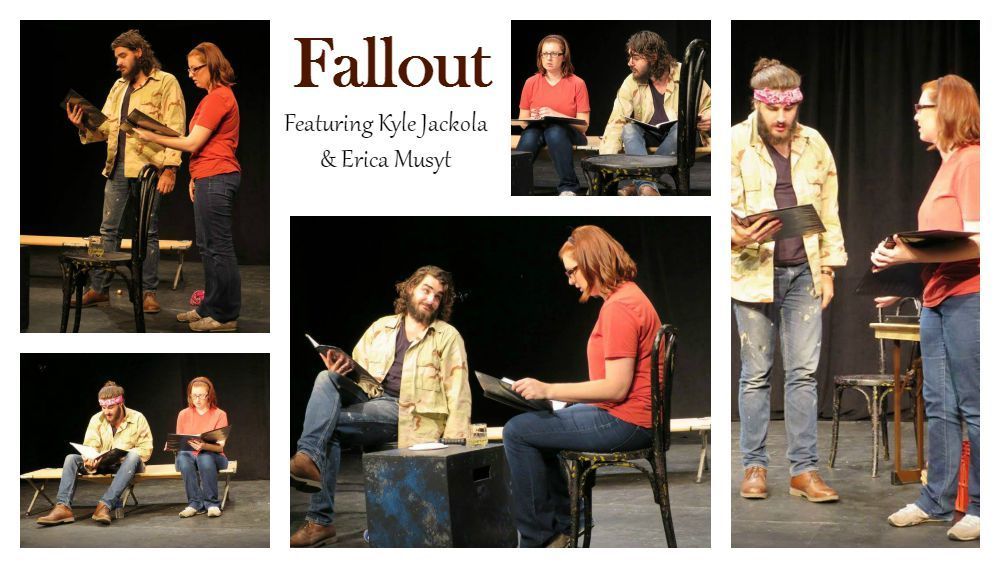 Kyle Jackola was great to work with as a co-star. He was fun and always went with the flow. When the bottle of water exploded all over him, he just kept on going. That's a champ!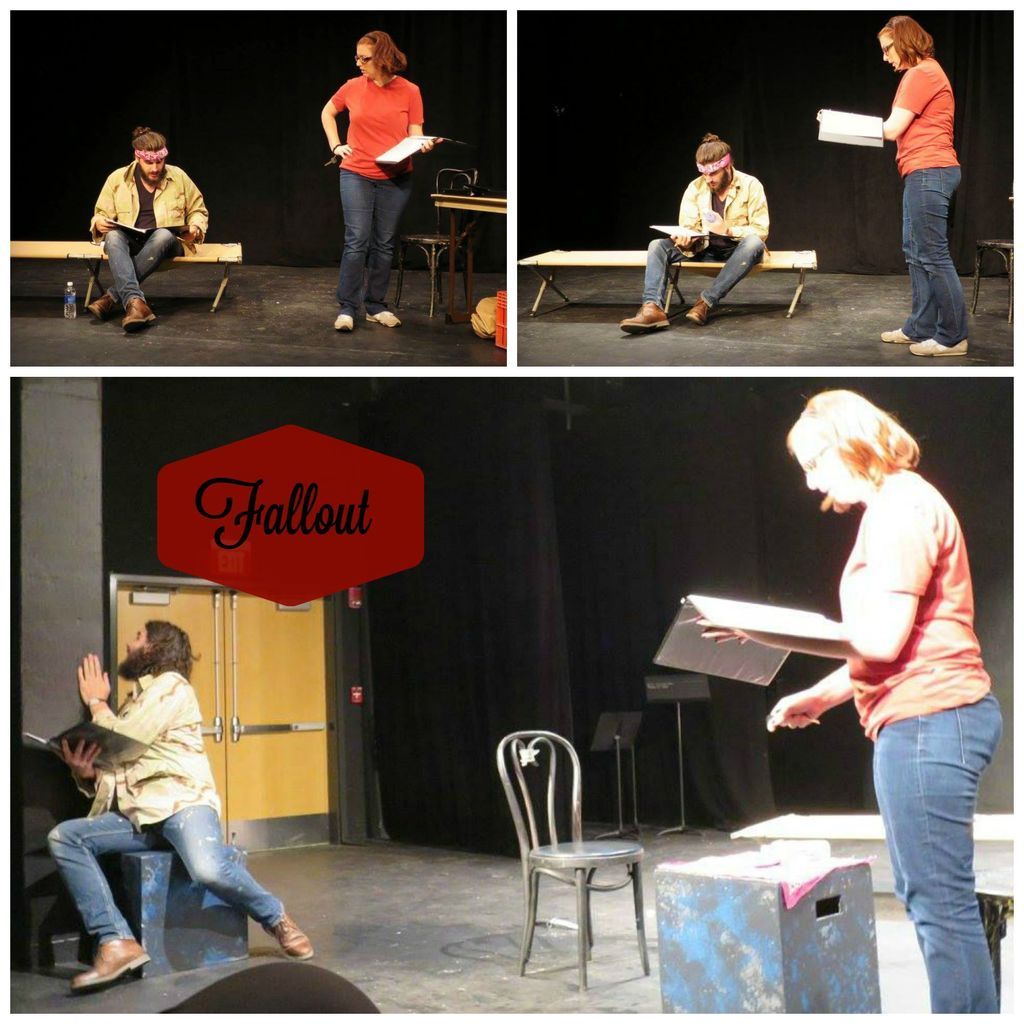 I had such an amazing time being a part of the Hollins Playwright's Lab. I really hope to be part of it again soon.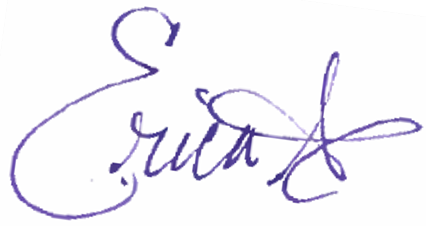 All material © Erica Musyt