I love having awesome friends that help me out when I'm out of town :) Today the fabulous Shelly from Shelly's Cabaret is keeping you company. She's helping us feel more Put Together. Let me tell you, there are days I definitely do not feel put together! Shelly's post could not be more timely :) Take it away Shelly!
Let's face it. Living in today's world is busier than it's ever been. There is always something to do, something to look up (like what is a bae?), something to pin (cause grandma needs another pot holder with Timmy's little handprint), something to research (like which sushi restaurant in the area has the best Yelp reviews), something to read (like this here blog post), something to tweet (...like this here blog post), and so on. Something is on our minds every. waking. moment. and it's no wonder so many of us feel like we're climbing a mountain made of Jello.
Because we can get so distracted by all these time killers, taking real care of ourselves can fall to the wayside. Then we feel terrible about ourselves cause we're in a rut. And then we see all those awesome outfits, hairdos, nails, and made up faces on Pinterest and feel even worse cause seriously, who are these perfect people?
So what do you do when you're in a rut? How do you make yourself feel put together even when you're not?
It's simple enough:
You fake it 'til you make it!
Here are 10 cheap and easy ways to feel put together even when you're not!
Accessorize.
Wearing a nice, classic outfit can work wonders when it comes to the way you feel about yourself, but you don't have to have a closet full of fancy or expensive clothes. Instead, splurge a bit on accessories that will make you feel good in your simple blouse and jeans. And by splurge I mean hit up Charlotte Russe or Forever 21 and get some 2 for $10 accessories.
Get your nails did.
If you're like me, you almost never get your nails done at a nail shop. That's just a luxury I choose not to indulge in unless I'm in a wedding (I've been a bridesmaid about 8 times over!), going to a super-special event, or in such a rut that it's considered a personal emergency. If you don't have the means to get them done professionally, go to a drugstore and pick up a $6 bottle of Essie Nail Polish and demand a loving friend or lover give you a mani/pedi. You need it!
Play some music.
I'm talking about songs that transport you to a time when you felt like a bad-ass or songs that motivate you to get back to that.
Color or glaze your hair.
Sometimes we just need something completely new, don't we? And sometimes we don't. I have a solution for both. And since this is 10
cheap
and easy ways to feel put together I'm not gonna tell you to spend hundreds of dollars at a hair salon, but I am gonna make you privy to a couple of former-cosmetologist (that's me!) secrets. First, please don't go out and buy Garnier or L'Oreal hair dye to color your hair with. You can buy an affordable, professional-grade hair color called
Wella
from Sally's Beauty Supply. I don't recommend trying to highlight your hair on your own, but if you want to try a new all-over hair color, go to Sally's and ask an associate for help in picking a color by
Wella.
Second, if you're happy with your current hair color but think it could use a bit more shine, you can always apply a glaze/gloss which deposits a translucent coating on your hair shaft. You can also purchase a glaze by
Wella
from Sally's.
Clean out your purse.
If you dig for your wallet in your purse and panty liners and receipts pour out instead, I know you're telling yourself
get your act together, woman!
Go home and clean out your purse, and you will feel 100X lighter after you do.
Clean out your car.
I don't know about you, but it's like the person who runs the house (me) and the person who takes care of my car (me again) are two very different people. The former is a neat-freak while the later just does not give a damn. Snacks, socks (in case we go on a spontaneous trip to the bowling alley?), combs, bobby pins, old mail, water bottles...whatever you need, you can find it in my ride. Whenever my car is clean I feel like a new woman. And so can you.
Buy new undergarments.
How can you feel like you're not put together when you have new, matching undergarments under your nice, accessorized outfit? You don't have to spend a lot at Victoria's Secret. Ross, Marshall's and TJ Maxx sell nice undergarments at an even nicer price.
Dine solo.
If you've always preferred the company of others, this might seem scary at first. However, every woman should experience, at least once, the confidence-builder of dining alone. Put away your phone. Smile at other diners. Be with your thoughts. Be your own best friend. You'll be glad you did!
Buy a new planner or decorate an old one.
How anyone lives a semi-organized life without the help of a planner is beyond me. If you don't have one, you can buy an affordable one at Wal-Mart or Target. Make it fun by using stickers, washi tape, stamps and colored pens to plan your days. You'll look forward to keeping your days organized!
Wear red lipstick.
When all else fails, put on some red lipstick and see what happens.
Hi, I'm Shelly from Shelly's Cabaret! Thank you for reading my guest post here at Erica's pad. I recently made the switch from Blogger to Wordpress, changed my domain and am now trying to re-establish by Bloglovin following. If you liked what you read here, feel free to follow! I can also be found on Instagram, Twitter and Facebook. Cheers!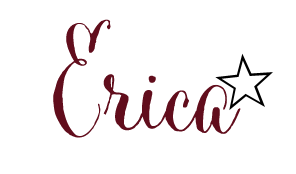 All material © Erica Musyt