Over the weekend my dad I spent our time at
MystiCon
. MystiCon is a SciFi/Horror Fantasy Convention that takes place in my hometown. It's the fifth year for MystiCon in Roanoke. It was absolutely packed with people. Costumes out the wazoo, gamers, dealers (not the drug kind), fans, authors, zombies, EVERYTHING you could imagine! Needless to say, my dad and I had a great time!
Let me start with Friday. Dad started his scifi day around 3 or 4 pm and I got there after work. He picked up our badges and then we met up when I got there.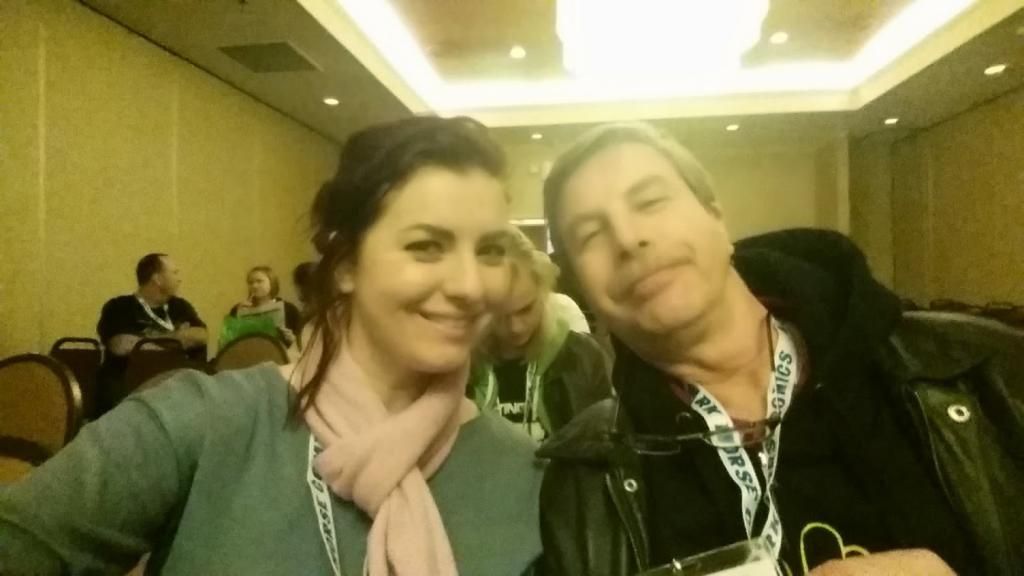 We had dinner and looked over the schedule. The first session we went to was called
Is There A Doctor on the Starship?
The panelists were talking bout some of the things that are incorrect on shows that deal with medicine. One of the guys talked about
House
and how he would cringe every time they talked about something that wasn't possible at all! There was this one guy who was a total wacko and kept going off-topic. It was really interesting. The second session (and last for the night) was '
What If' Moments in History
. My dad really liked this one. I was totally bored! My dad is a history buff, so he was definitely into this one. When that panel ended I had to go home, I was sooo tired. I thought all these people were weird and crazy. I heard some kids talking to a costumer and they were calling her the wrong cartoon name. I got really frustrated with them, because they thought she was Elsa from
Frozen
and they were sooo wrong! That is when I knew it was time for me to go home!
Saturday was pretty awesome though. When I got there I had a big smile on my face, because it was all so cool! Totally different mind set from Friday evening. On Saturday my dad and I got there at 10am and didn't leave, except for dinner, until 9pm. Talk about an all day scifi binge! Sessions each night went until midnight/1am. You could tell that people had been up all night. I found a dragon sleeping in the hallway!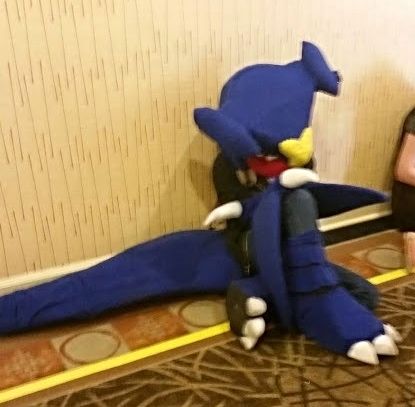 Our first session of the day was
The Weird South
. The panelists talked about horror's heritage in the South and why the south provides such a rich playground for authors. I took so many notes. The biggest thing that was talked about was the size of the south's towns. With towns so small and isolated things tend to get weird in the south. One of the panelists, Tally Johnson (
facebook page here)
, was really interesting to listen to. He was on a few panels that I attended. He's a non-fiction ghost writer. Another panelist on this one was John Jennings (
Facebook page here
) and he had a lot to say about race in the south since he grew up in Mississippi. Really fascinating panel.
The second session was
Tooting Your Own Horn in Social Media
. This was a really helpful one for me. I had heard a lot of it, just from reading blogs and having a social media presence (as small as it might be).
Liz Long
, Angela Pritchett, Michael V. Ventrella, and Danielle Ackley-McPhail were all really great to listen to and gave great advice. Liz Long and I hit it off really well; she's local here in Roanoke, so hopefully we'll be friends :) She's an author and I bought one of her books - 'Gifted: A Donovan Circus Novel.' It's about Magic, Mystery and Murder. You can find her on GoodReads
here
.
There weren't any session from 12pm-2pm that my dad and I were interested in, so we ate lunch and walked around the Dealer's Room. Talk about scifi throwing up in one place :) There were TONS of vendors set up with items for sale: gaming booths (like Magic: The Gathering), Dr. Who stuff, used books/movies, posters, and on and on. Here are some pictures from out lunch break, Enjoy!
Dad with a goblin looking guy and a Star Gate guy.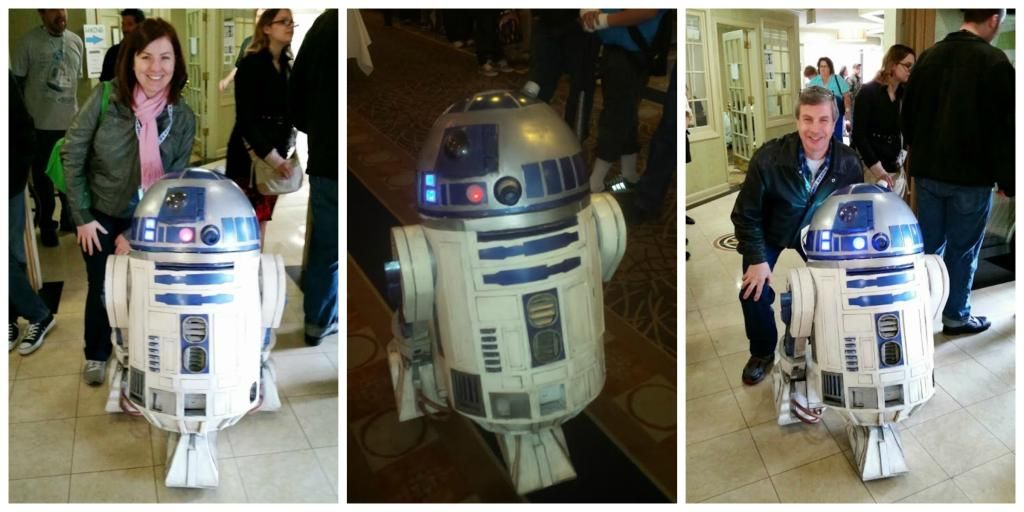 R2D2 from Star Wars
Transformer & Wizard with a dragon and some creature holding a skull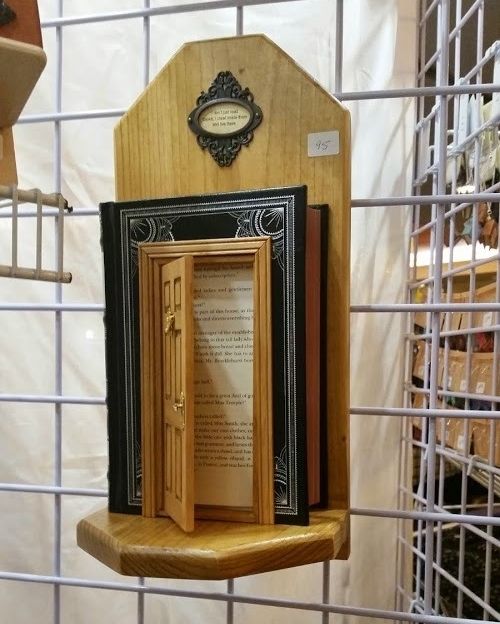 This is clearly not a person dressed up in a costume. There was a vendor there from Arte of the Booke (website
here
). She makes amazing things. Leather bound journals, jewelry, book marks, and this right here ~ Library Sign Book Wall Plaque. She uses leather bound classic novels.
20,000 Leagues Under the Sea, Sherlock Holmes, Jane Eyre, Peter Pan
, etc. You can find her Etsy shop here:
The Arte of the Booke
I totally fell in love with this. There's a little phrase at the top of the plaque that says "I don't just read books; I crawl inside them and live there." So true! The creator, Nancy, buys little doll house doors and carves into the book (about 50 pages) and it looks just amazing!
I really want one to hang on my wall. Maybe more than one! These would look so cool in an office or near a book shelf. I love books!
After lunch dad and I went our separate ways. Dad sat in on
Aliens in SciFi
and a
Paranormal
panel while I attended panels intended for writers. My first one was
The Hero's Journey
. It was geared toward screenwriters and the leader, Matthew Marshall, walked you through the Hero's journey from beginning to end. At 3pm I went to another writers workshop called
The Plot Workshop
with Allen Wold (
here
). He was really interesting. Allen's two hour workshop was really good! He walked us through the 'basic elements' of story writing. There are things you need to know before you even begin that I didn't think about. It really got the wheels in my head turning. Mom met me and dad for dinner and then we had a couple more panels.
Villains We Love to Hate
was a really good one. We sat in on a short film that was really bad, yet it won 'Best of MystiCon 2015." I'd hate to see some of the other ones that didn't win! Dad and I were going to stay until 11pm for
Psychology of Horror
, but we were too tired. When we got home we both totally crashed!
Waking up Sunday morning was tough. I almost didn't go, but then I couldn't let my dad down. I met dad there around 11am. The Sunday ones were definitely not as good as Saturday. We took another lap around the Dealers Room and dad bought some books. Then out of nowhere the Penguin showed up! He was the BEST out of the entire weekend! I asked him if I could take a picture with him. He responded by saying, "you don't dress like this and say 'No' to pictures." How right you are my friend!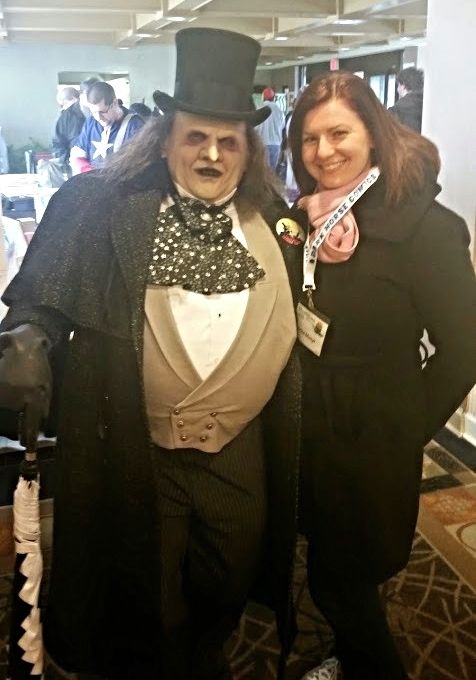 Over all I had a really good time. Dad and I got to bond over SciFi and learned a lot we didn't know before. There were plenty of tributes to Leonard Nimoy who had passed away on Friday morning.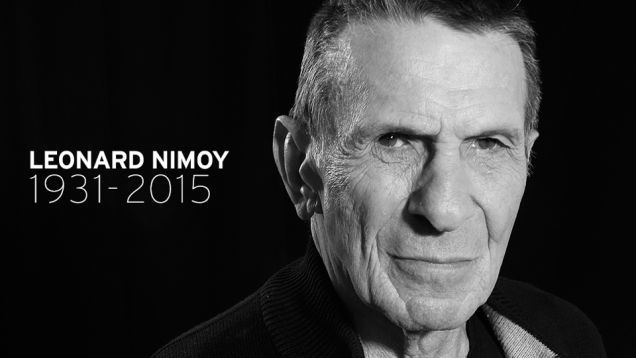 I would totally go again to MystiCon. I wish there was more
Orphan Black
. I don't know if I would dress up, but it would be fun. I'm looking into New York ComicCon that's in October. That might be fun. San Diego's International ComicCon of course would be amazing! All the stars come out for that one. We shall see. Who knew I was such a nerd, right :)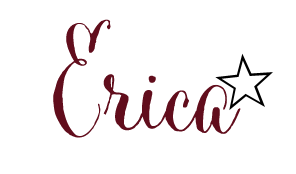 All material © Erica Musyt