Happy Friday Feelings!
Another great week behind me! A full work week, even with the threat of snow. I spent the whole weekend in SciFi Land with my dad and it was awesome. I'm in the blooms of a new relationship, I got back to the gym (good thing too, because I gained a pound), started Season 3 of House of Cards (craziness) and just enjoyed life!
*joyous*
This week is Pimpin Joy Week. If you listen to The Bobby Bones Show in the morning then you know he's all about doing good for others. I heard some amazing stories from people all around the country that are calling in and sharing how they are pimpin joy. I love it and it's so inspirational. You still have today and tomorrow to Pimp some Joy! What will you do?
*
out of shape
*
(as i eat a salad)
After three weeks of not working out, I went back on Tuesday. Man, was that tough! I probably shouldn't have stayed away from the gym for so long, but coulda woulda shoulda, right? Marina and I are still doing our weekly weigh-ins. I gained a pound this week. I need to made some changes!
I saw a poster for the new season of Game of Thrones on Twitter this week and got SOOOO excited! It returns on April 12th! I'll be in my new apartment by then with cable and HBO. It's going to be amazing!
Tuesday night when I got home from the gym I had a little surprise in my room. My parents were downstairs watching television and I was upstairs getting ready to take a shower. I had stripped all my gym clothes off and happened to look to my right as saw a giant spider on my bag (which was on my bed). I ran, naked, into the hallway screaming 'HOOOOOOOOOLY SHIIIIIT!!!!!' I grabbed a towel out of the closet to cover myself with and my mom comes running up the stairs. By then the black spider had hidden himself somewhere among my black coat. I didn't step foot into my bedroom until the creature had been captured. Dad came up with a jar and captured the little sucker. It was an awful experience! I HATE spiders...all sizes.
You can see it's icky fangs!
*smitten*
top definition on urban dictionary:
to be really taken or pleased by someone
I'm totally smitten with J.
We were eHarmony matched after I'd been on it for only a week and I sent him a "smile," because I thought he was super cute and he doesn't drink.
Once he finally got a full subscription we went through the guided communication, eharm mail and texting for a couple weeks. J and I had no problems at all finding something to talk about. We have so much in common. Our eh emails just kept getting longer and longer each time we replied to the other. J said he wanted to take me out on a date and meet me. The crazy wintery weather delayed our first date (which we were both totally bummed about), but we finally met. We closed the restaurant down, but made sure to plan our next date before we went our separate ways.
Each time we'd see each other it was so much fun! Whether it be Chuck E Cheese, dinner, movie, anything, we just always had a good time.
I can talk to him about anything.
I feel comfortable with him and comfortable enough to be my weird goofy self!
I've never dated a guy with a beard or who's younger than me (just a few years, 3), but I'm totally diggin' it!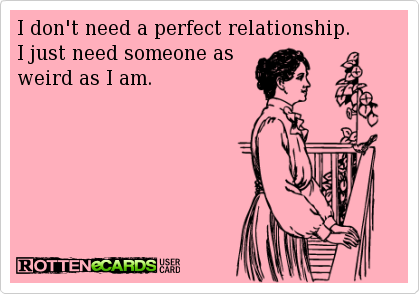 Grab a button and link up. Today it's all about how YOU are feeling!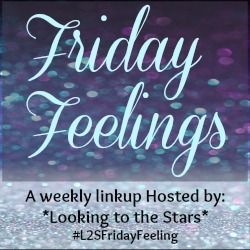 All material © Erica Musyt