Welcome to Friday Feelings V.2 :) I'm glad you could stop by. How does it work, you might ask? It's quite simple. You can write about however your week has been, what you've been feeling lately - happy, sad, excited, etc. If you need to vent or rant, go for it! It's all about how you are feeling!
I hope you had a wonderful week. I'm know I'm ready for this weekend, that's for sure! I bought training sessions at my gym, because I wanted to get into shape and learn new things and all that fun stuff, right? Well, Bobby (my trainer) is kicking my a**! Yesterday was our 3rd session. I did arms on my own on Tuesday, so yesterday he did legs with me. Yeah, I'm sore. I can barely move my right are. I know my legs are hurting!
~ This is how I feel today ~
Bobby...my trainer...is also a CrossFit trainer! God help me!
This is my mom the next day...well, today!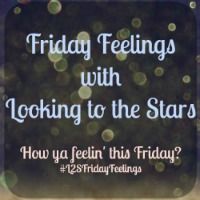 How are you feeling today? Grab a button and link up!
All material © Erica Musyt