In May of 2013 the Krispy Kreme in Roanoke was victim to an electric fire in their property's attic. They suffered around $100,000.00 in damages. They had to close their doors. It was a sad day in Roanoke. This particular store had been open for more than 50 years and serviced stores all over Southwest Virginia as well as Southeast West Virginia
(full article from WSLS 10 here)
.
On November 11, 2014 Krispy Kreme reopened! There were more than 100 people waiting in line for the 6am opening. Some of them got there the day before in hopes of being the first 100 in line to receive a certificate for a dozen free glazed donuts a month for one year. That's a lot of donuts!
(Roanoke Times Coverage)
There was even a pre-opening celebration the night before from 6pm-9pm. Roanoke loves their donuts!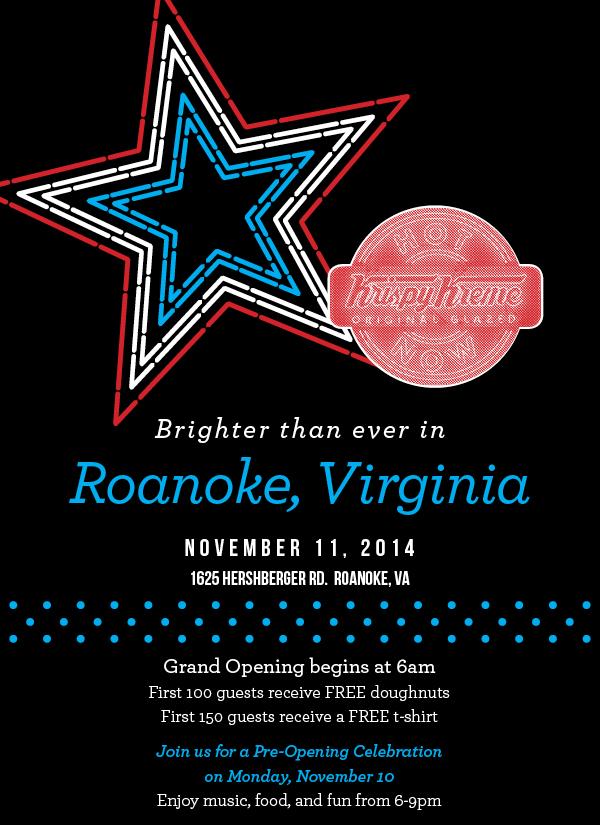 I've been to Krispy Kreme before when I was really little. My Grandpa Henry LOVED Krispy Kreme donuts. Especially the Kreme Sticks with Chocolate Icing on them. Yummy!
Even though Krispy Kreme has been open for a few weeks now, people still wait in line. Especially when that
Hot Now
sign lights up! I just learned that there is an app that you can get for your phone that will let you know when the
Hot Now
light is on at your nearest Krispy Kreme. I had to check this new store out for myself! After work one day last week I decided to stop by on my way home. The
Hot Now
sign was blazing up there and people were coming through. Oh, did I mention that the new location has a drive thru? When I got there drive-thru line went all the way around the building. The line inside was pretty long too.
It's really cool that the back area is covered by glass. You can see the donuts go through their glazing process. So much icing!!!!!!!!!!!!!!
I was only in line for about twenty minutes. Most everyone was ordering dozens of donuts. I ordered a measly 1/2 dozen for me and my parents. They sure were yummy!
All material © Erica Musyt