Happy Friday everyone! We made it through another week -
phew
! Only 20 days until Christmas!!! Let's take a look and the week I just had and then I want you to tell me all about yours!
1. This past Sunday I was in the local paper,
The Roanoke Times
. The business section posts pictures and little blurbs about new additions and changes for local business and organizations. I was one of the little blurbs ~
Tourism
Erica Musyt has joined the Roanoke Valley Convention & Visitors Bureau as national sales manager.
2. On Monday I arrived at work to find a poinsettia sitting on my desk. There was a little poinsettia fairy at the bureau that day!
3. Monday evening momma surprised me with my Advent/Christmas countdown calendar. It's got Rudolph, Hermey, and the Bumble on it. LOVE them!
4. For lunch yesterday I walked to downtown to get something to eat. There's this pizza place called
Benny Marconi's
. They sell pizza by the slice and by the pie. You only need a slice, because they are HUGE! If you've been to
Jumbo Slice
in Adams Morgan, you ain't seen nothing! HAHA! This pizza slice is all you need and it's delicious!
5. We've been watching a lot of depressing, murdery television lately -
American Horror Story
and
Game of Thrones
. I'm getting my mom and dad caught up on some shows. The other day my mom and I really needed a happy movie, so we turned off the other stuff and put in
Elf
. LOVE THIS MOVIE! It just makes me smile, like Buddy the elf. Smiling's my favorite!
I'm linking up with
Lauren Elizabeth
(High Five For Friday) and
September Farm
(Oh Hey, Friday) today. Go check them out and meet new bloggers. Make sure to stop by
September Farm
tomorrow for my
Saturday Confessional
post. It should be pretty interesting!!!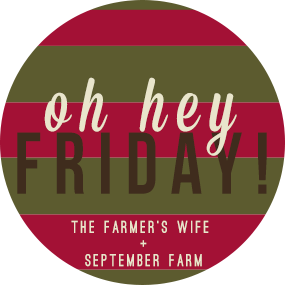 All material © Erica Musyt