Welcome to today's book chat! I am co-hosting with
Jessica of Sweet Green Tangerine
. Today is all about Book Inspired Playlists. This one was tough for me, but then I had a light bulb moment!
I know that I have mentioned the
Wideacre
trilogy by Philippa Gregory before. The third book in the series,
Meridon
, has a bit of a carnival/gypsy flare to it. The song is called "Enter the Circus/Welcome" by Christina Aguilera.
Whenever I read books by Nicholas Sparks I like listening to singer/songwriter music. The last book I read,
The Best of Me
, made me think of one of Sarah Bareilles song called "Gravity." It's off of her first album
Little Voice
. The song really works near the end of the book. I won't give it away, so I'll stop there :)
I hope you enjoyed my "playlists" that are book inspired. Grab a button and link up! What are some songs that you love that remind you of some of your favorite books?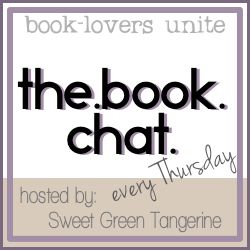 1. Please follow the host and co-host
2. Visit a few other book chat links and show some support.
3. Link back here in your post. Or use the button provided.
4. Old posts are always welcome if you have blogged on the topic before.