Welcome to the Summer Lovin' Read-A-Thon!
There are 166 bloggers participating in the read-a-thon and it's going to be awesome! Today is Day 1 and it is Class Orientation.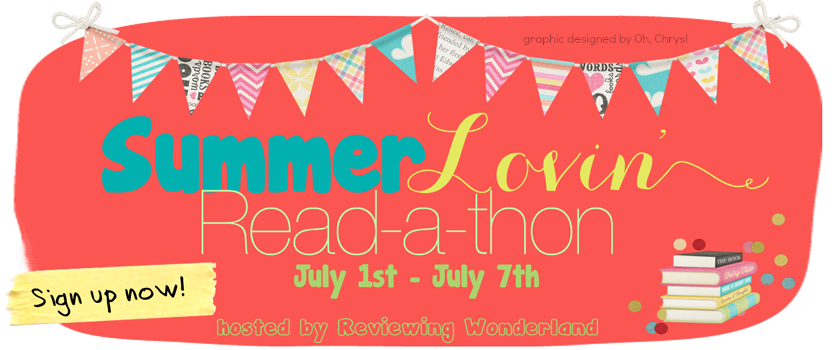 ~ Here's a little bit about why I love reading and how I play to use these next 7 days ~
I have been reading for as long as I can remember. I remember living in our first house in Roanoke, VA on Hedgelawn St in my room one summer night reading the Thoroughbred series. I loved my Babysitters Club and Molly: An American Girl books. I loved books about kids my age with great adventures!
I also LOVED R.L. Stine's Goosebumps and Fear Street.
I love
fiction
! It's my favorite to read. I love leaving the real world and entering fiction world. Even if it's just a small southern town in North Carolina. Big adventures are pretty awesome too. Philippa Gregory is a great writer.
The Wideacre Trilogy
is amazing and takes you into a crazy world of the 1700's. You've got
Harry Potter
,
Hunger Games
, and the list goes on. I love reading!!!!!! I get to use my own imagination instead of it being created for me (like in the movies or on tv...don't get me wrong...you know I love my movies!).
I can't really pick a favorite genre. I love historical fiction, young adult, fantasty, chick-lit, some sci-fi, pretty much anything. I don't like romance novels (the ones with Fabio-like covers). Everything else Fiction I am pretty much open to.
So, this read-a-thon. We are supposed to read as much as we can for the next 7 days. I have started The Forgotten Garden. I'd really like to finish this book within the 7 days. The next two books I want to read are Fifty Shades Freed and Men and Dogs. I'm not a very fast reader, so we'll see how much I get through. That's 3 books in 1 week. Eeek! Although, with the July 4th holiday this week that gives me an entire day to read by the pool!
I am going to share a teaser from the book I read and loved - Wideacre by Philippa Gregory.
I nodded and gave him a sweet forgiving smile on parting when he took my hand in a warm handclasp and bent and kissed it. I drooped ever so slightly down the stairs and then laid my head against the cushions of the carriage as if I were weary. Harry saw my face and took my hand comfortingly in his. - page 521