Thank the Lord it's Friday! I realize that it was a short work week for me by going back to work on a Wednesday, but I'm glad I did. I don't think I could have handled a full week of work after being off for 7 full work days. The weekend is almost here and I have dinner plans with Jacq, my last traffic class, and my car is getting looked at on Sunday (some chick hit me a few weeks ago..boo!). Busy weekend! I hope you all had a fabulous week and here are some of my top moments!
1. You all know that I've been on Weight Watchers for some time. I'm
finally
starting to make some headway and get myself under control with it all. I am also reading Jillian Michaels's new book
Slim for Life
. I'll talk more about this next week, but on Saturday I weighed in at 148.2. I finally got under 150!!! WooHoo! It feels good and I'm not going back over 150 ever again!
2. We had a
HEAT WAVE
this week. It was over 90 degress for most of the week. On Monday it hit 100!
3. While I was still on vacation I got to spend an afternoon with two of my favorite ladies. We went and got pedicures and then had custard. This was Lindsay's first girlfriend outing since Baby K arrived and she was very excited. Marcy and I wanted to make sure she remembered to do things for herself. Love ya lady!
4. This happened last week, but I absolutely had to share! While home in Roanoke for vacation I visited the Mill Mountain Star. It's an amazing structure in Roanoke and also the largest man made star. Now they have a camera on the star and if you go to a particular website you can see yourself with the entire city behind you. Mom found it for me and sent me the print screen!
5. Planet Fitness now has HydroMassage Beds!!!!!!!!!!!!!!!!!!!!!!!!!!!!!!!!!! I tried this out at the gym this week and it is amazing! You lay down on this water bed and select the speed of the massage as well as the pressure. When you hit the little blue button on the wall these water jets start up underneath you and go up and down your body for 7 minutes. Talk about 7 minutes in heaven! It was amazing! Totally worth the extra membership fee for the black card, because you have to be a black card member to use it!
I hope you all had some wonderful moments from you week! Share some in the comments below. i'd love to hear what you've been up to. Also, I'm linking up with
Lauren Elizabeth
for today's High Five For Friday. Go check out her blog and find some new ones you like. See you on Monday!!!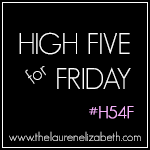 Here is peak of what to expect on the blog next week: movie review of
The Conjuring
, Eye Brow Tutorial & a Slim For Life post. Make sure to come back and visit. Oh...and follow along on
Bloglovin'
!