Happy Friday everyone!


This had to have been one of the most AMAZING weeks I have had in a long time! Here are my top 5 moments ~
5. First of all, it's June 28th. I will be 30 years old in 2 months time - exactly! Farewell to my 20's...I can't wait!
4. 1 more week of work (and thanks to July 4th it's a 4 day work week) and then I'm on VACATION!!!!!!!!!!!!!!!!!!!!!!!! I'm already in vacation mode at work!
3. I have always wanted a window seat for as long as I can remember! When I got my entryway table I moved the bench over to the window. I was able to arrange it so it works as a window seat. I sat there on Wednesday night and finished reading my book. It was really pretty because I can see the sun set from my window. Love it!
2. I can't believe it's been 3 months since I decided to stop drinking. I am so happy with the decision I made for my life. I can see things so much more clearly now. You realize that there's this whole other world waiting for you. The people in my life are so supportive and wonderful. Now, if I could just get the whole Weight Watchers thing under control ;-)
1. My Bestie and her Hubby had their first baby Monday night!!!! As soon as the notifications started coming early Monday morning I was scatter brained. All I wanted was to be with her. I went into work for a couple of hours and then straight to the hospital. Baby K was born Monday night and she is absolutely beautiful! I'm so excited for them and their new family. They are going to be amazing parents and I am excited to see them learn and grow together! Plus, as her best friend I'm pretty much a "built in babysitter" as Tolar put it!
You can hear more about Baby K from momma Lindsay herself over at Pursuit of Pink.
As per the usual, I am linking up with
Lauren Elizabeth
for today's #H54F. Check her out and link up! You have the chance to meet some awesome people!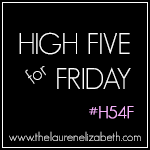 What are you up to this weekend? Share in the comments below. I'd love to hear from you!