I LOVE BOOKS!
I signed up for a
Preview to Summer Book Swap
and today is the day to reveal what we got from our partners. I was paired up with Cassie, who blogs over at
Southeast by Midwest.
Cassie shares a blog with her hubby Travis. You should definitely go check out their blog.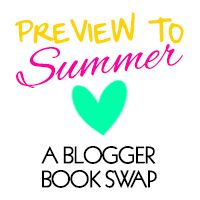 Cassie sent me a lovely care package with a letter enclosed ~
Erica ~ Hopefully you enjoy the care package I came up with for you. From surfing around your blog I noticed that you REALLY love to read, you prefer post it notes over your smart phone, and you like twizzlers.
To start off with, after you remove the bubble wrap and white tissue paper, be careful with the black tissue paper as it has a gift wrapped inside. Hopefully you don't already own the color :)
From there I included a few things you can enjoy while reading the two books I included. Enjoy these goodies and your two new books.
~ Cassie
Boy, did she nail me on the nose!
1. She got me a massive pack of twizzlers. I broke into them as soon as I got the box. I ate them all before I could take a picture of them. I love strawberry twizzlers.
2. Cassie sent me 2 of Kate Morton's books - Distant Hours and House at Riverton. I cannot wait to read these.
3. I love hot chocolate! She sent me Rich Chocolate Swiss Miss, Marsh-mallow Bits, and a white chocolate hot mix. I haven't broke into them, but they are going to be so yummy!
4. The big notepad is on my fridge as we speak for my grocery lists.
The green Sally nailpolish is so pretty for spring/summer. I haven't used it yet, but I'll put a picture up once I do.
The post it notes are sooo cute! I love kitties :)
Thank you Cassie soooo much! This is definitely one of the best swap boxes I've gotten. I hope you liked yours :)