Happy Thursday everyone. We are almost there...the weekend is just beyond the horizon.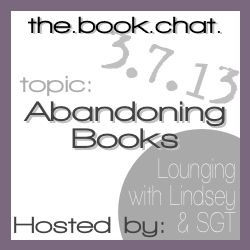 Today's topic is
Abandoning Books
. I am one that tends to do this. There are quite a few books that I have started and never finished; several of them are on my
book list for 2013
.
Here are just a few books that I have put down, but definitely intend on picking back up ~
These three books I definitely plan on finishing.
There are few that I am going to attempt to pick up again, but make no promises in finishing them a 2nd (or even 3rd) time...
Good luck to all of my fellow book abandoners!