Today my bestest friend, Lindsay (aka...Pursuit of Pink) is guest posting. She is amazing when it comes to beauty and fashion. Lindsay is taking time out of her busy work, blogging, and mom-to-be time to give you and me a little bit of advice when it comes to fashion/beauty!
Hi everyone! I'm Lindsay from over at
Pursuit of Pink
and I'm thrilled that my bestie Erica asked me to guest post for her today. Isn't Erica fab? I sure think so – obviously!
Two of my favorite things that make me happy are beauty and fashion. You can find me talking a lot about both topics, plus a slew of other things over on my
blog
. I wanted to pass along some of my thoughts on fashion to you all. My number one rule in fashion is don't be afraid to try new things and certainly don't be scared of what anyone else will think (because what do they know anyways?). This is a lesson I learned in high school. Capri pants had just started to hit the market and I fell in love with them, but I wasn't sure if I should wear them to school or not. Well another girl in school did wear them and a lot of people talked about her capris; several people even made fun of her for wearing them. That sealed the fate for my capri pants, I was not going to wear them to high school and get made fun of. But not too long after that happened, capri pants started showing up everywhere – in fashion magazines, on our older friends in college, on tv, even other girls in school wore them!!! Everywhere I looked people were loving capri pants and I was so upset that I didn't go ahead and start in on this trend.
I don't let that happen to me anymore. I love to experiment with new trends and see if new looks will work on me. I encourage you all to do the same. Start small if you are considering a trend that you are unsure about. You never know, you just might fall in love.
Take for instance, pattern mixing. I wasn't sure how I would like it because I didn't want to come across as someone who got dressed in the dark, so I started by mixing patterns that were similar in style but still different – and I loved the result!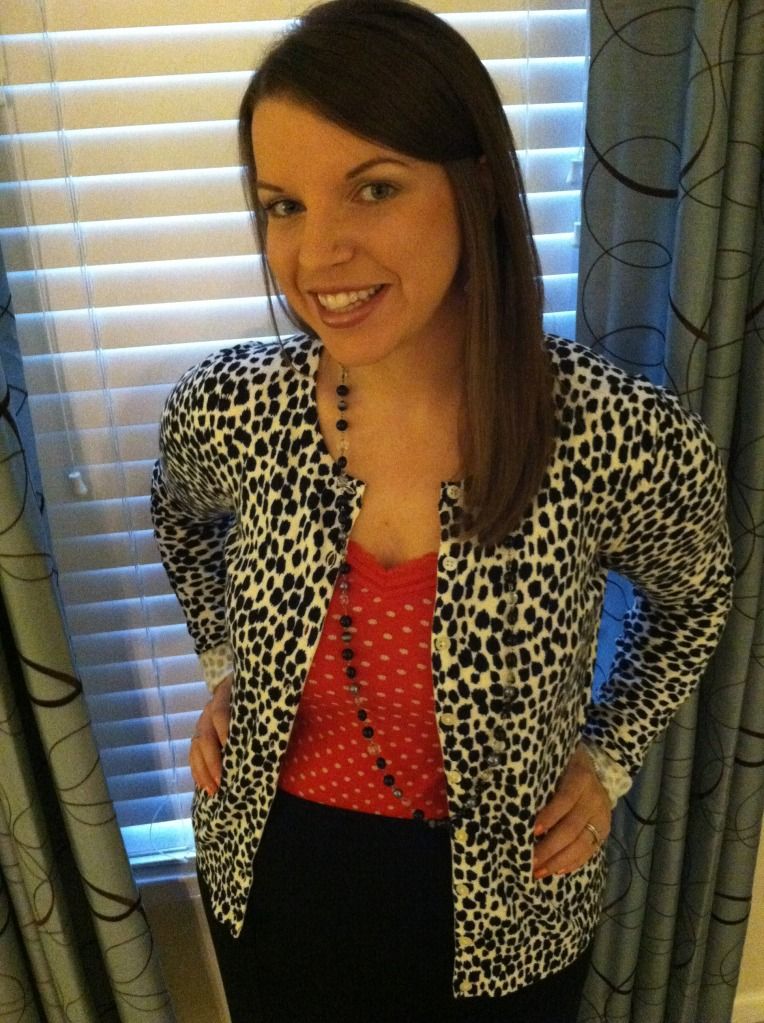 Polka dots and dalmatian print - so fun!
Also, brown and black were colors I never thought I would wear together. But now that brown and black are showing up all over the place as color combos, I just can't get enough. It's such a chic, pulled together look. After all, brown and black are both neutrals and all neutrals go with each other (that's one rule I learned from the tv show What Not to Wear and I live by it!).
And certainly don't be scared to add color to your wardrobe, each season always has a hit color. Remember when people weren't sure about pairing pink and orange together? Well know you see the combo everywhere! If you like something just wear it! And I'm here to tell you that the hot color for 2013 is Emerald according to
Pantone
. So embrace your inner Oz citizen and rock some Emerald green. Jewel tone colors are my favorite, I just feel so put together and pretty with a little extra color.
So there you go, just a few of my thoughts on fashion. Overall, go with what YOU love. Be into experimenting just a little, because you never know what you (and the rest of the fashion world) will end up liking.
Thanks to everyone for taking the time to read what I had to say. Stop by and say hi over on my
blog
, on
facebook
or on
twitter
. I look forward to chatting with you all! And a HUGE thank you to Erica for having me today. Love ya girl!
Thank you, Lindsay, for guest posting at Looking to the Stars. You are amazing and I love you!
Yay for best friends!