Today is one of my favorite blogging days....the book chat!
I am so excited to be co-hosting today's link up with Jessica at
Sweet Green Tangerine.
This is my first co-hosting gig and I'm super excited!
Today we are talking about a book that we are currently reading.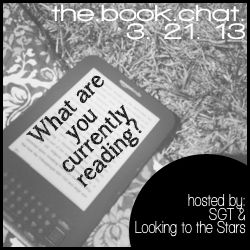 I was currently reading Dark Places, by Gillian Flynn, but I finished it on Monday. It was AWESOME! I had been warned that it was really dark (Gone Girl kept me up a few nights with my lights on), but it wasn't as creepy and scary as I thought it was going to be. Well, until the last 100 pages...eek!
Anyways, on to one of the books I am currently reading now...
I was lucky enough to get a signed first edition at Target (woohoo). The author has a note in the front to
Target Guest
-
I'll let you in on a secret. I cannot walk past a book aisle without stopping to browse. I think I have a bit of a book addiction. On more than one occasion, my oldest son has had to grab me by the elbow and pull me away with the admonishment, "Mom, we didn't come here to buy books!"
That is pretty much me when I'm at Target. Except for the eldest son part. I usually say that to myself!
On to the story. As soon as I read the book jacket I was sold; plus the cover is really pretty. Yes, I judge books by their covers; especially pink covers! This is a story about "love and sacrifice, conflict and hope." A couple that has been in love and together their entire lives faces the ultimate decision no one should ever have to face.
The author doesn't waste any time and gets right to it. The big event happens right away. It's very intense and definitely a page turner. I'm only a few chapters in, but so far I really like it. I can't wait to see what happens!!!!!
Thanks so much for stopping by! Don't forget to link up!
To join in...
1. Please follow the host and co-host
2. Visit a few other book chat links and show some support.
3. Link back here in your post. Or use the button provided.
4. Old posts are always welcome if you have blogged on the topic before.
P.S. ~ I'm participating in a March Group Giveaway on
Pursuit of Pink
.
Go check it out to win some AWESOME prizes!