I hope everyone is having a fabulous week thus far. We are half way to our weekend!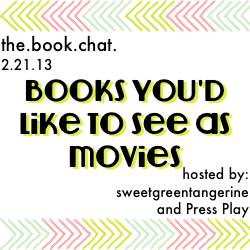 The subject today is
Books You'd Like to See as Movies.
There are SO MANY books that I've ready that would make fantastic movies; in my humble opinion. I could be here all day listing the books that I think should hit the silver screen, but I'm only going to talk about three of them.
1. Straight on 'til Morning, by Christopher Golden.
Do you remember the tale of Peter Pan and his lost boys? Well, this is a modernized sci-fi version of Peter Pan. Here's the description from the book jacket:
It is the summer of 1981, the last three months of freedom for Kevin Murphy and his friends before they begin high school. It's also Kevin's last chance to confess his unrequited love for Nikki French. But Nikki has a new boyfriend- Pete Starling. He's trouble. And he's taken Nikki away. To rescue her, Kevin and his friends must follow them into a neverland they weren't meant to know about. A life they cannot imagine. A place from which they may never return...
I'm not a big sci-fi reader, but this book is fantastic. It will draw you in until you can't put it down until you finish it. The detail my imagination went into while reading was unreal! This would be amazing on the big screen.
2. Namedropper, by Emma Forrest.
If this book got made into a movie, it would be an indi flick type of film. I can see this at Sundance. It's gritty and it's real.
Meet Viva Cohen: her bedroom walls are plastered with posters of silverscreen legends, and underneath her school uniform she wears vintage thigh-high stockings. Her best friends are a drugged-out beauty queen and an aging rock star. She lives in London with her gay uncle Manny. Namedropper takes you on a rowdy romp from London to Los Angeles, where Viva and her two best friends search for love, experience, and Jack Nicholson. It's a wild ride as she uncovers the icon in every person she meets.
If I were casting this movie, Colin Farrell would play the "aging rock star," I, of course, would play Viva, and Jemima Kirke would play the best friend.
3. Firefly Lane, by Kristin Hannah
This has got to be one of my all time favorite books! It's 479 pages and I read it in 4 days. My friend Marcy read it in a weekend.
In the turbulent summer of 1974, Kate Mularkey has accepted her place at the bottom of the eighth-grade social food chain. Then, to her amazement, the "coolest girl in the world" moves in across the street and wants to be her friend. Tully Hart seems to have it all - beauty, brains, ambition. On the surface they are as opposite as two people can be: Kate, doomed to be forever uncool, with a loving family who mortifies her at every turn. Tully, steeped in glamour and mystery, but with a secret that is destroying her. They make a pact to be best friends forever; by summer's end they've become TullyandKate. Inseparable.
For thirty years, Tully and Kate buoy each other through life, weathering the storms of friendship - jealousy, anger, hurt, resentment. They think they've survived it all until a single act of betrayal tears them apart . . . and puts their courage and friendship to the ultimate test.
I think this book would make an amazing Lifetime mini-series. If you've never read Kristin Hannah's books before, start with this one. It is really amazing. Oh, and read it with a box of tissues, because I definitely shed my fair share of tears. I was hooked very quickly and so will you be!