Happy Sunday everyone! I hope you all had a beautiful week.
I am linking up with
Ashley
and
Neely
for today's 31st Social Sunday. Today's theme this the year ahead. I still can't believe it is 2013. I love the #13 and I feel that it is going to be a
good
AWESOME year!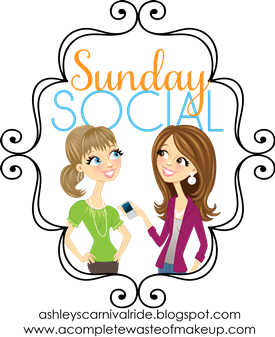 This week's questions are... ~
1. Do you plan to change any of your eating habits in the new year?
YES! I joined Weight Watchers to help me with my food habits, so I am definitely looking to change some of those habits!
2. Do you have any work out tips to get us back in shape after the Holidays?
My mom and I heard on Oprah that when you are on a treadmill, it is all about INCLINE! I usually do an 8.0 incline on 3.5/4.0 speed. You may not be going very fast, but because you are going uphill you definitely build up a sweat!!!!!
3. What is your favorite thing you did over the Holidays?
I would have to say that beating my dad at Scrabble was the best part!!! My dad is a HUGE reader. He can read a 400 page book in a matter of days! He's super smart and a history buff. I didn't think I stood a chance. However, I BEAT HIM!!!! The score was something like 236 vs 197. WooHoo!
4. What is something you hope to accomplish in 2013 that you didn't accomplish in 2012?
HITTING MY GOAL WEIGHT!!!
I know that I'm saying it a lot, but that really is my biggest goal. My mom recommended that I give myself a deadline, so I shooting for July 15th!
5. Name 3 things happening this year that you are excited about.
~ I am turning 30 this year!
~ Mom says she has something exciting planned for our birthdays this year. I'm not even going to try to investigate. I can't wait to be surprised!
~ I am going to take another acting class this year. I don't know where or which one, but I'm going to do it. It will probably be in the fall, like my Shakespeare class was, but I really want to take another one!
Well, I hope you all have a wonderful Sunday!
xoxo