Happy Wednesday everyone! This is my first Wednesday Walkabout..woohoo!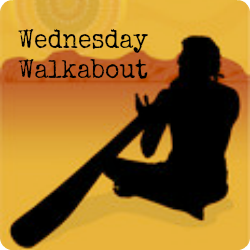 How was everyone's Christmas? Were you a good little girl or boy and did you get some awesome stuff from Santa? Do you want to see what I got? Check it out!
My awesome stocking stuffers...
1. Mom found a bottle of wine called "WTF!!!" at the store. So awesome! And it's a Pinot Noir!
2. I got a couple gift cards...one for Subway and another for Starbucks. Perfect!
3. Dad got me a Vanity Fair magazine. It has Kate Moss on the cover, but inside is an article about "Downton Abbey." I love this show! It starts January 6th!!!!!
4. Some much needed vaseline chapstick was also in my stocking.
My Christmas presents...
1. Ever since I was 11 years old I have been collecting Madame Alexander Dolls. Every year Santa brings me a new one. This year Santa brought me a "Wendy Loves Cheer Bear" doll. Every doll has a story behind it from my live. When I was a little I had a Care Bear Cheer doll. The Wendy doll is so sweet and so cute! (I am not going to be the crazy lady with cats and dolls!)
2. I also got a digital picture frame! Mom thought it would be cool to have in my office :) Love it!
3. There is a company called Spent Rounds Designs. They make jewelry out of spent rounds, bullets! Mom got me a pair of earrings and they are really cool. I can't wait to wear them!
4. Dad got me and mom little pyrex dishes for our soup. Pyrex is amazing and I love it! Now I have a sturdy microwavable dish for my soup :)
5. Mom got me a pair of finger-less/mitten gloves. They are from Mossimo, which can be bought at Target. They are a really pretty blue and so soft. They will definitely keep my fingers warm!
I hope everyone had a wonderful Christmas.
Keep safe and warm!
It's sleeting here in Roanoke.
Drive safe and Happy Holidays!